SAMS Chaco Project Paraguay

República del Paraguay
Paraguay

One of the only two landlocked countries in South America, Paraguay is positioned on both banks of the River Paraguay, bordering Argentina, Brazil and Bolivia. Due to its central location in South America it is sometimes called, el corazón de América "Heart of America". It covers an area of around 400,000 square miles. Paraguay has been independent from Spain since 1811.

Paraguay has one of the largest indigenous populations in South America. The indigenous language Guaraní is spoken by 87% of the population.
The Chaco

The word chaco in Spanish comes from the Quechua word chaqu meaning "hunting land". It refers to a sparsely-populated lowland region of the Río de la Plata basin, and covers over half the total area of Paraguay. It is one of South America's last agricultural frontiers, with a semi-arid climate.

The Chaco lacks all basic infrastructure and modern amenities. The vast majority of people living there belong to indigenous groups living at subsistence level based on cattle farming.
Chaco Kids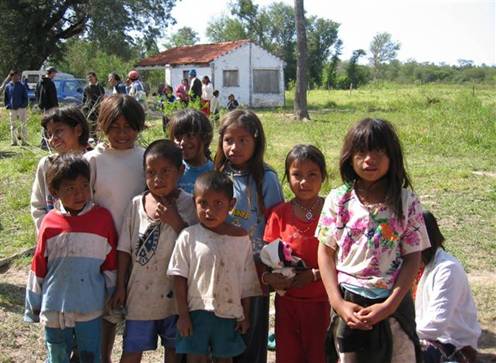 Link Prayer Partner
Nurse Beryl Baker offers the only hope of medical treatment to around 18,000 indigenous people in the Paraguayan Chaco. She has dedicated nearly 30 years of her life to this area and describes herself as 'orderly, gynaecologist, midwife and dentist', treating anything from TB to gunshot wounds and snakebite. Government funding provides some medicines but offers little else in the way of support. The needs are considerable and alongside meeting daily health challenges Beryl trains indigenous health promoters to meet some basic community health needs.

PLEASE PRAY
For the provision of financial and practical resources to enable Beryl to serve and treat those who are suffering, so that deaths can be prevented.
For the provision of funds to provide fuel to get desperately needed water into the communities.
For Beryl who ministers in a complex, dangerous and demanding environment.
Beryl needs money and prayer as getting medicines in Paraguay is fraught with complications. Getting medicines of any kind is difficult. Every month Beryl tries to source medicines on her monthly visits into the capital city Asunción. Beryl supplies a chain of health workers, trained by her, who live in Indian communities so help can be immediate. The following is what she will buy with any money that is raised:
Medicines for fevers
Painkillers
Basic antibiotics
These are simple answers to tragic needs. Poor nutrition lessens people's physical resistance to illness. Prompt treatment can often save lives.
£2 will buy enough Asprin / Paracetemol / Ibuprofen to treat 5 people for fevers caused by parasites or viruses and exacerbated by a hot climate, often over 40º.
£5 will buy enough iron and vitamins to protect pregnant mothers from anaemia caused by parasites.
£10 will buy medicine to treat 10 asthma sufferers in danger from sudden temperature changes, dropping from 40º - 7º in half an hour or re-hydration fluids and treatment for illness through drinking dirty water and eating contaminated food.
£15 will treat chest infections caused by scratching scabies bites with dirty finger nails for 8 children or arthritis in people young and old crippled by hard manual work, milking cows, carrying firewood and the need to travel long distances on horseback.
£50 will buy the petrol and maintenance needed to reach distant communities. Visits are often restricted because of travel costs.
SAMS Ireland aspires to be a praying, serving, affirming, listening, partnering and transforming mission agency. We value your partnership through this practical project which seeks to help the people of the Chaco through the ministry of nurse Beryl Baker.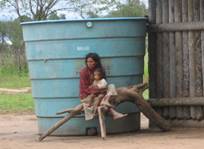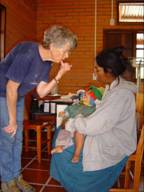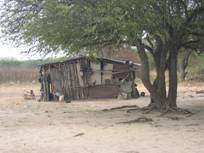 Click here to visit the SAMS Ireland home page, it should open in a new window.